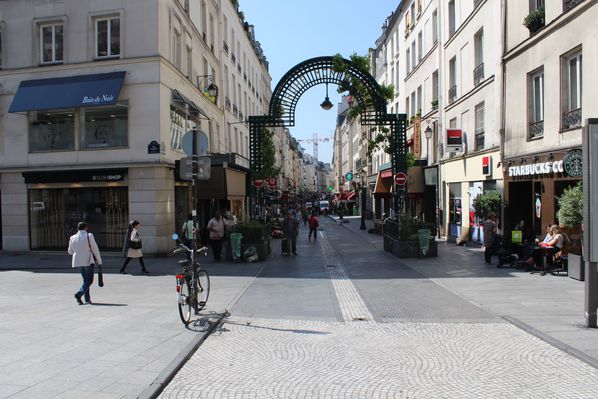 The apartment is very close to markets, bakeries, cafés & restaurants, shops..
You will be in a special area where you will find many ones, with real quality.
This pedestrian area is called Montorgueil. From the apartment, it's very close and easy to get there. You can check on a map and on our commentaries about the proximity.
When you go out the building of the apartment, take in your right (rue de cléry) and the second in your left (called rue des petits carreaux).
Then, straight on during 1 min by walking and you will arrive in the real entry of this central and famous area closed to cars and traffic !
Just there, you will find, for example :
-- Boulangerie KAYSER = Excellent and famous bakery = 16 rue des petits carreaux
-- Les petits carreaux = parisian Brasserie restaurant, typical = 17 r. des petits carreaux
-- Le petit Marcel = near Centre Pompidou, old brasserie = 65 rue Rambuteau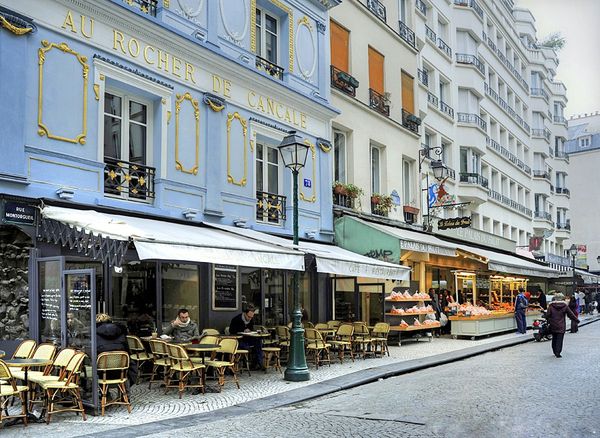 Montorgueil : Heart of Paris !
The Montorgueil district is centred around rue Montorgueil, a primarily pedestrian street which is a "rue des commercants" - or shopping street par excellence.
This street is packed with all of the little shops any Parisian (or visitor) could want - greengrocers, butchers, fishmongers, bakeries (including Stohrer, a bakery and patisserie dating from 1730) flower shops, chocolate shops, wine stores, and even a few gelato shops.

Restaurants and cafes abound, as well as the scores of boutiques in the surrounding streets. The area has in recent years become a haven for young designers and this is evident in the small boutiques scattered throughout, but the larger clothing stores still remain as well, centred around rue Etienne Marcel, which runs toward Place des Victoires, a 5 minute walk away.
An often missed treasure just across the street from the apartment is the Passage des Grands Cerfs, one of Paris's many enclosed passages - glass-roofed passageways lined with shops and boutiques. True to the neighbourhood, this passage contains several funky clothing stores, a restaurant, and a few galleries and furniture stores.

Closest metros are Sentier (line 3) and Reaumur Sebastopol (line 3 & 4)