Costs:
€ 240 per night (minimum stay = 4 nights)
€ 1.480 per week
Degressive prices depending on your stay, really advantageous from the 5th day..
Security bond — € 200
Booking deposit — 30% of total rental cost
Cleaning fees — € 50
Tarif includes all taxes, welcoming on arrival, as well as wi-fi internet, linen and towels..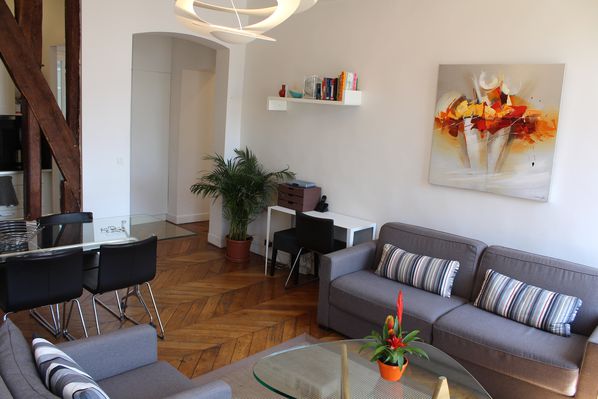 Payment:
First : Booking deposit of 30% of the total rental fee is required to confirm your reservation.
In a second time, the balance of the rental and the security bond will be paid :
-- either 30 days prior to your arrival, via SWIFT or Paypal,
-- or by cash upon entering the apartment.
Arrival / Departure times:
Check-in is between 2 pm and 6 pm and check-out between 9 am and 10 am. This is to give us time to prepare the apartment in between renters. However, if there isn't another booking imediatly before or after yours, different times can be arranged. We do our best to accomodate special requests.
* For an arrival after 6 pm : additional charge of 50 € to be paid.
** For an arrival after 9 pm or on Sundays : 70 €
*** For a departure on Sundays : 30 €
Cancellation Policy:
-- Once the reservation is actual, the cancellation would result in a deduction of 10 % of the final price.
For cancellations made 3 months before your arrival date : 15 % of the total rent would be preserved.
Between 90 days and 60 days : 20 % of the total rent.
Between 60 days and 30 days, 30 % of the total rent.
Cancellations made fewer than 30 days in advance of your arrival date are non-refundable.
-- The bank charges or paypal fees on deposit and reimbursement are due by the tenant.
Security Bond:
We know you will take good care of our apartment but accidents happen and unfortunately, they sometimes cost money to put right. The security bond will cover any damage or loss of equipment or furniture in the apartment. This may include specialist cleaning of rugs or furniture if stains or excessive soiling occurs. The security bond is refunded the day of your departure.
Insurance:
By making a reservation with us you declare that you are covered by your own insurance for any direct or indirect injuries that may occur on the premises and will not make any claim against the owners relating to these. Your personal belongings are not insured by us while inside the flat. We recommend you take travel insurance that covers you for cancellations or loss or damage of your personal belongings.
Smoking Policy:
This apartment is strictly non-smoking.
Towels and bedlinen:
We supply high-quality, 100% cotton towels and bedlinen which are all professionally laundered after each stay, and are included in every booking.
I would like to precise that everything is supplied in the bedrooms, bathrooms and in the kitchen.
Telephone:
Local calls and calls to USA, Canada, Europe, Australia and Asia are free.
If you make any calls to mobile phones (local or international) or to countries other than mentioned above, you will be charged and the amount will be deducted from your security deposit.
Optional extras:
To make your holiday even more relaxing, we can arrange for the cleaner to come during your stay. Either for a simple daily maid service or a full weekly clean for longer stays. Please let us know at the time of your booking if you are interested in either of these. Rate €20 per hour.
We are available to help you with any problems or questions regarding the function of any appliances or services in the property. And we would love to host you in our apartment.
Family NEAU